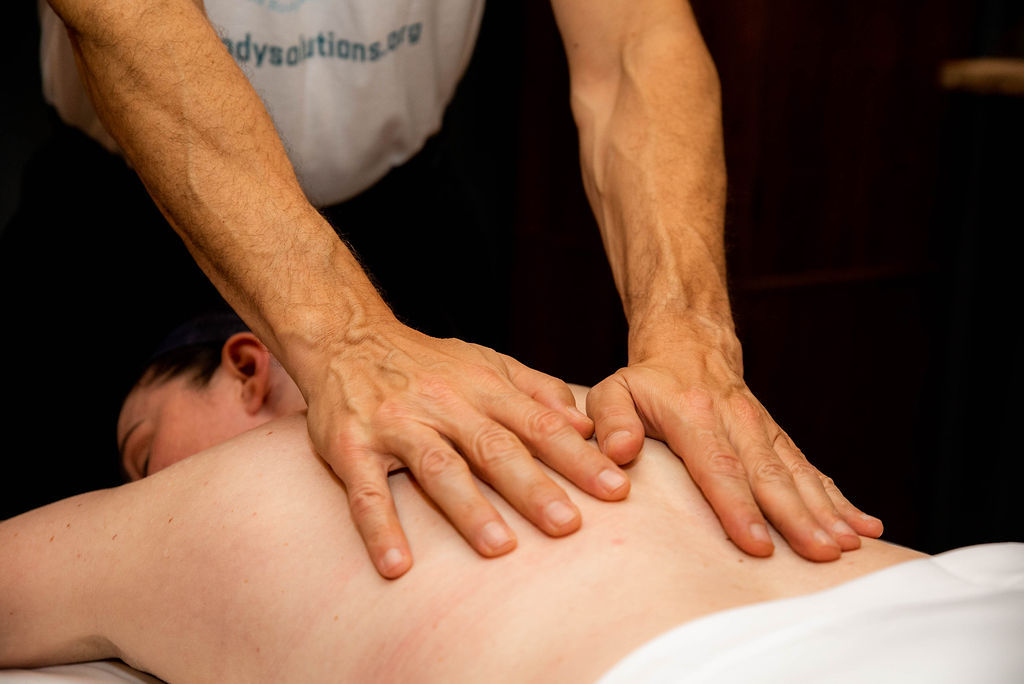 SIGNATURE MASSAGE – Your solution for stress and tension. A perfect blend of therapeutic and relaxation work. We start by relieving any current areas of pain or stress and use several different techniques to relieve pain and ensure relaxation. It can be as focused or as general as you like and is fully customizable regarding pressure and areas worked on.
DEEP TISSUE MASSAGE - Your solution for chronic or accute pain management. This is a deeper, slower massage that focuses on addressing fascia and layers of muscles and muscle attachments to relieve restrictions and improve muscle health and range of motion. We relieve trigger points and break up adhesions and scar tissue using minimum or no lubricant.
SPORTS MASSAGE - Your solution for peak performance, flexibility and recovery. We offer two types of Sports Massage:
Sports Maintenance – a 60 minute session that uses percussion, compression, and jostling techniques along with targeted stretching for optimal range of motion and performance. Recommended during training, and before events or intense periods of exercise.
Sports Recovery – a 90 minute session that focuses on soothing and restoring sore muscles after an event or intense periods of exercise. Swedish and sports techniques are combined with full body or targeted stretches. Recommended after and between events or intense periods of exercise.
FULL BODY STRETCH - Your solution for increased joint ROM (Range of Motion) and flexibility. We offer two stretch sessions:
30 Minute Stretch - Our basic set of stretches that will concentrate on major muscle groups of the core, back, shoulders and hips. This is a great option if you are looking to improve your range of motion and freedom of movement. This stretch can help alleviate muscle tightness from daily office work, that last 5K or intense workout. $10 Discount if added to one of our other Massage Services.
60 Minute Stretch - This session is our deeper and more extensive stretch that focuses on all major muscle groups in the 30 minute stretch, plus extremities like the lower legs, feet and ankles, neck, arms, wrists and hands. We also use trigger point balls and yoga blocks to release muscles along the spine. An ideal option for anyone struggling with tight muscles, aching or stiff joints. This head to toe stretch will leave you relaxed and lengthened.
ACCU-PRESSURE & YOGA STRETCH - This service is a combination of Accupressure, Thai Yoga Massage (modified for the
table) and Active-Assisted Stretching Techniques to decrease muscle tension,
increase flexibility and improve range of motion in the joints and muscles. This is done
fully clothed and involves client feedback and interaction. Perfect for those who are
active and wish to prevent injury, as well as those who lead a more sedentary lifestyle
and desire better posture, decreased pain, and freer movement. Please wear loose,
comfortable clothing.
PRE-NATAL / PREGNANCY MASSAGE - Pregnancy massage focuses on addressing the special needs of expecting women. Client is in side lying position for maximum comfort and safety. This massage is given with light to firm pressure. Firmer pressure can be safely given on back, neck, shoulders, gluteals and hips.
NOW OFFERING MONTHLY VIP MEMBERSHIPS! ENJOY MONTHLY MASSAGE AT A DISCOUNT. INCLUDES FREE AND DISCOUNT DYNAMIC ENHANCEMENTS. HIT THE BOOK NOW BUTTION AND GO TO MEMBERSHIP TAB.